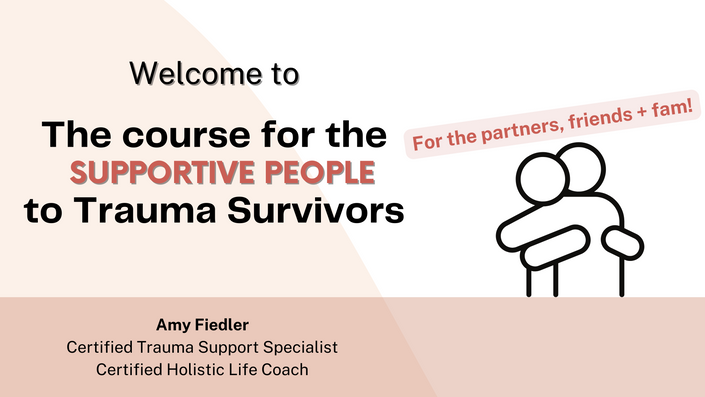 The Course for the Supportive People to Trauma Survivors
Learn how to navigate + support your partner, friend or family member who has trauma.
Enroll in Course
Welcome to The Course for The Supportive People to Trauma Survivors!
Here is the 1 online course you need to manage and sustain the health and happiness of your relationship with a survivor of trauma.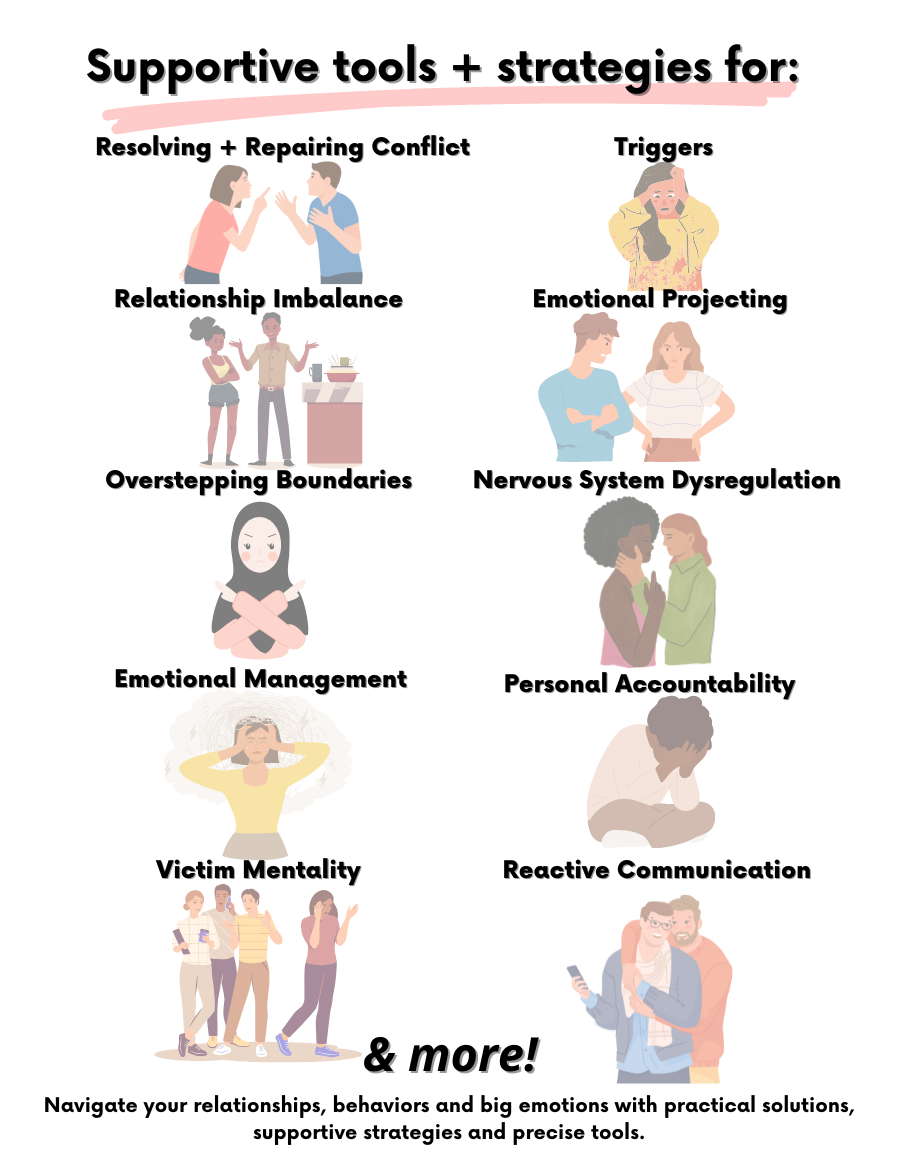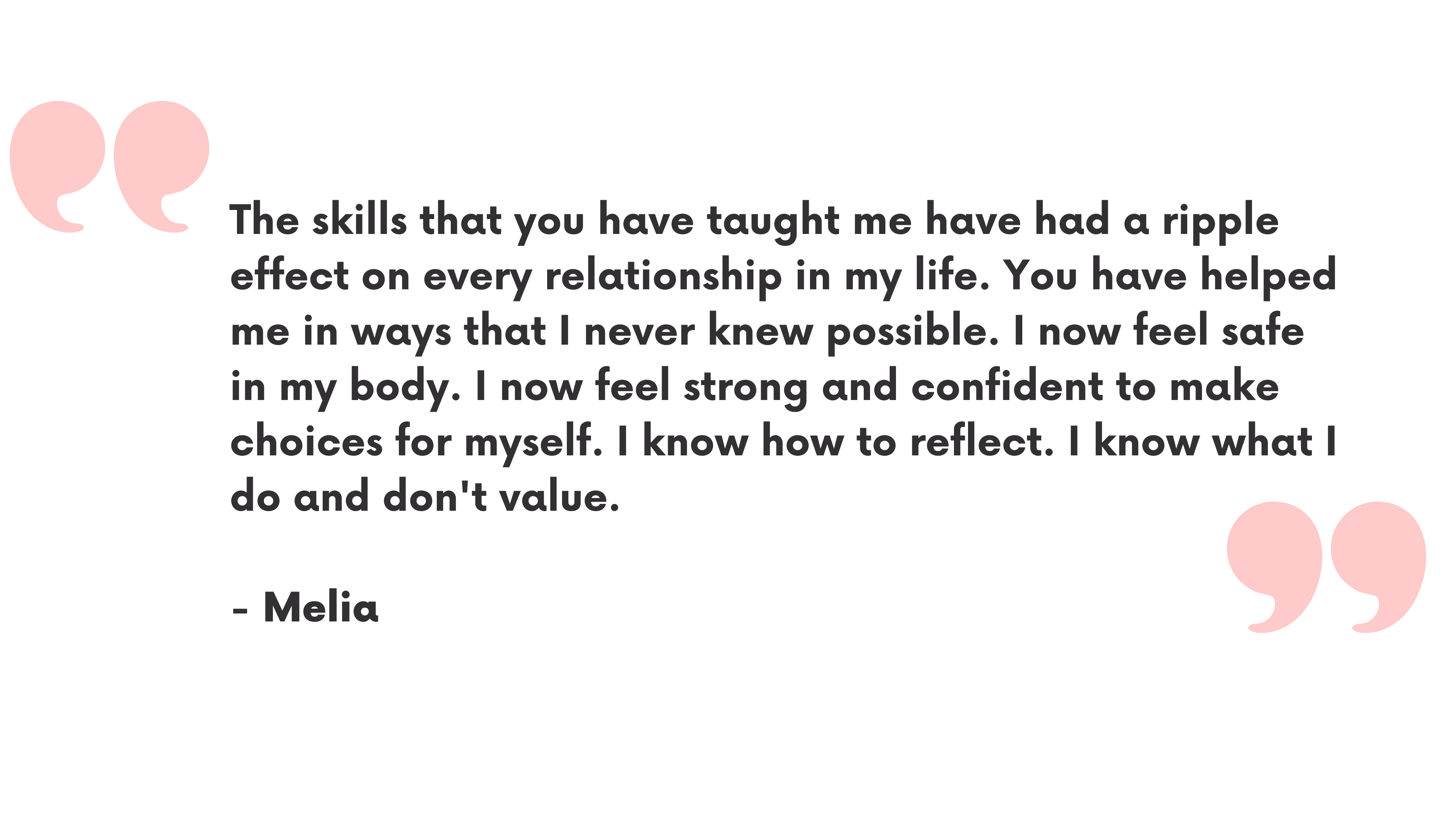 This course offers you a step-by-step guide to understanding the basics about trauma, how that trauma impacts your relationship, communicating in a trauma-informed way, regulating the nervous system and learning ways to coregulate and support the trauma survivor in your life (without losing yourself in the process).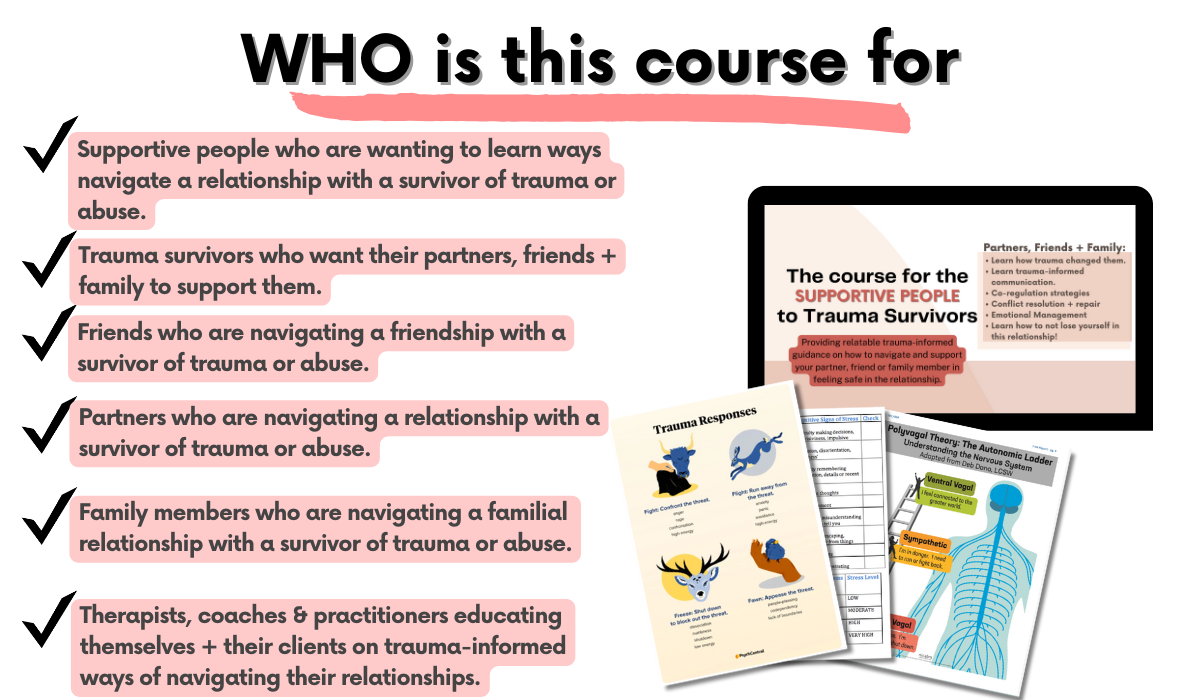 This Course will help those who:
Are struggling to navigate the triggers, challenges and nuances of a relationship with a survivor of trauma or abuse.
Have a friendship with an individual who is highly sensitive due to past trauma or abuse.
Have a family member who is highly sensitive or struggles with PTSD or CPTSD.
Are a romantic partner to an individual who has survived past trauma.
Live with an individual who is easily triggered, cannot self-regulate and wants to learn ways to be supportive without the relationship turning toxic.
Have a parent or guardian who has unresolved childhood or adulthood trauma and it's impacting the relationship negatively.
Are wanting to further develop their trauma-informed skills and strategies to utilize personally or professionally.
Are a therapist, coach or practitioner wanting to further their education and learn precise trauma-informed tools to utilize in practice with clients.
Struggle with how to support someone who frequently enters fight, flight, freeze or fawn.
Struggle with how to communicate with someone using trauma-informed language.
Struggle with navigating trauma triggers, conflict and repairing after conflict.
Wants to find healthier ways to support someone without re-traumatizing them.
Wants the survivor of trauma to feel loved, supported and safe within the relationship / friendship!
Your Instructor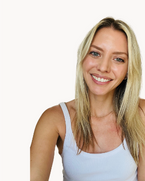 Amy Fiedler is a Certified Holistic Life Coach, Certified Trauma Support Specialist + Certified Reiki Master Practitioner of Natural Healing. Well versed in many holistic modalities, with 10+ years of professional experience, she specializes in providing individuals of all ages with integrative and sustainable mental and emotional support. Amy's work focuses on emotional guidance, relational behavior patterns, trauma support, healing after trauma + trauma-informed care. Her focus is on supporting, guiding, and educating individuals to gain awareness + utilize healthy, supportive coping mechanisms to better their mental health, improve their relationships, regulate their nervous system, navigate life after trauma + enhance their quality of life!
Course Curriculum
Welcome!
Available in days
days after you enroll
Lesson 1: Understanding Trauma
Available in days
days after you enroll
Lesson 2: Trauma + Your Relationship
Available in days
days after you enroll
Frequently Asked Questions
What is the format of this course?
The course is made up of 25 videos that you can stream to your phone, computer, TV or any device as long as you have internet. Each video is full of trauma-informed tools, precise strategies, scripts and real-life examples. I know you have a lot going on, so I kept each video digestible and full of useful info! In addition, modules will contain accompanying downloadable guides, worksheets and 'cheat sheets' that you can print out and keep on hand for easy reference to all your tools.
How long do I have access to the course?
Once you purchase the course, you have lifetime access to all the contents contained within it. You will be able to log-in and out, rewatch video lessons and revisit any of the material as much as you'd like!
Do I have to watch the course in a particular order?
Short answer – No, you can hop around as you'd like. I do, however, recommend starting with the first lesson (understanding trauma) as this really sets the tone and gives you a foundational jumping off point for the rest of the course. Then you can go directly to whatever behavior you're struggling the most with...whether that is trauma-informed communication or learning how to coregulate. You can go back and forth and skip around throughout the course however you'd like.
Is this course appropriate if I am a friend or family member to a trauma survivor?
Yes, absolutely! This course will support any person navigating any type of relationship with an individual who is a survivor of trauma or abuse. Whether you are a friend, family member or a romantic partner, this course will help you.
Can I gift this course to the person in my life I want to support me?
Short answer - yes! If you are a trauma survivor and are wanting your friend, family member or partner to support you more, this course will make a great gift! This course can be taken individually by the supportive person, or it can act as a great resource for both individuals in the relationship to sit down and work through together.
Are refunds available if I am not happy with this course?
Due to the nature of this course, refunds are not available.